Smarter Purchasing for GPO Member Pharmacies with SureCost
Maximize Your GPO Membership
If you're working with a GPO, SureCost gives your pharmacy more purchasing options, more insights into that relationship and more oversight of your wholesaler. We don't replace your GPO. We empower you. SureCost integrates with your GPO—and your entire vendor portfolio—to give you visibility, accountability and insight. Download our best-in-class purchasing white paper for GPO members to learn how today's GPO member pharmacies are maximizing their savings with SureCost and Smarter Purchasing.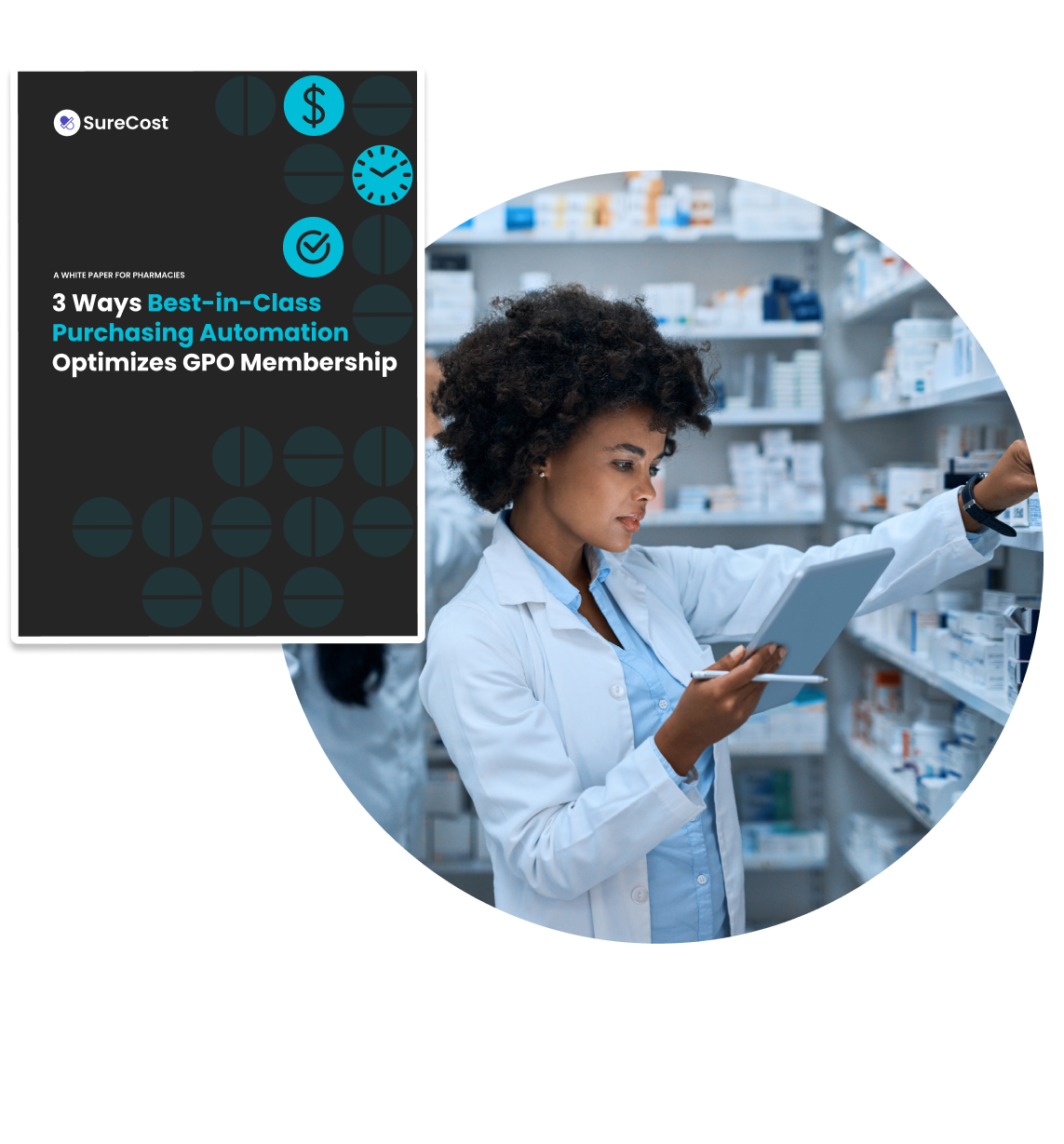 What's included in the white paper?
3 Ways Best-in-Class Purchasing Automation Optimizes GPO Membership
This paper will show you how SureCost empowers pharmacies to:

Assess the best purchasing option from your GPO and other vendors

Connect all purchasing relationships and agreements to ensure compliance and optimize product selection

Ensure compliance and efficiency while streamlining your work
SureCost doesn't replace your GPO membership. It gives GPO members greater visibility, accountability, insight, convenience and efficiency.
"I have used SureCost going on 19 years, and honestly, I've never run a pharmacy without it since then, and I never would."
Doug Smock,
Founder and CEO of Infinity Pharmacy Solutions, LLC and IPS Specialty, LLC & GPO Member
We don't replace. We empower.
100
%
Gain 100% transparency into all of your purchasing options, across entire vendor portfolio, including your GPO.
100
%
Ensure 100% accountability with your GPO, with accurate and timely reimbursements and ensuring your contract price is honored.
5K
+
Unlock business analytics to enhance your GPO membership. Thousands of pharmacy users are maximizing their entire purchasing structure with us.
Let's Talk About Smarter Purchasing with SureCost
Thousands of pharmacies, like Smith's, are leveraging SureCost to save time and money. Let's talk about how SureCost will help you leverage your GPO membership without disrupting your process.