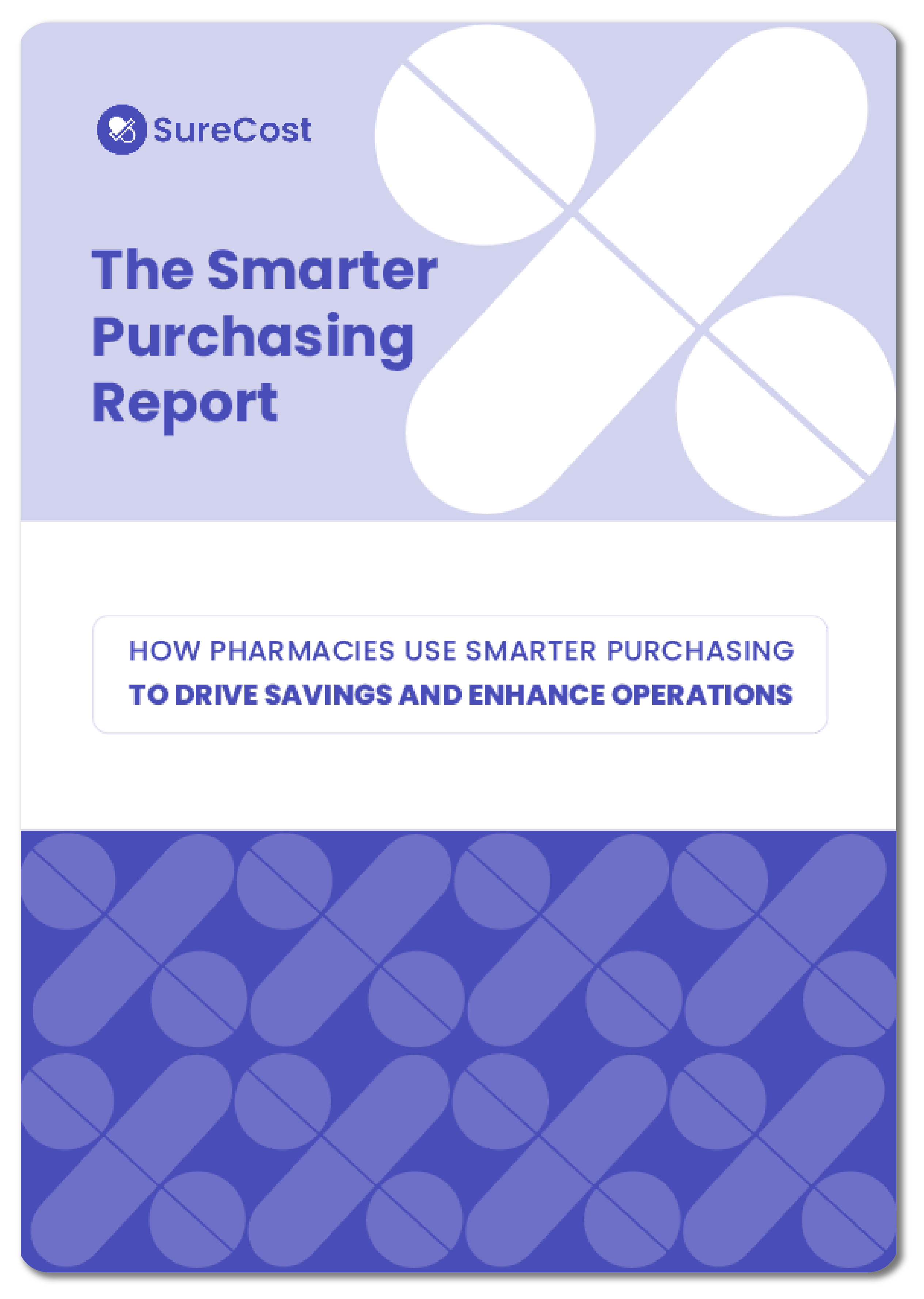 "My team would spend about two or three hours a day to do [purchasing with] all stores. We started seeing ROI immediately with SureCost. The time savings alone were worth it…You'll save time, which is money, and make everyone more happy, productive and efficient."
— Charles J. Fanaras, President and Owner of The Prescription Center
Thousands of pharmacy professionals use SureCost. We examined their anonymized data to uncover five unique savings opportunities. Now, we've summarized these findings for you. Learn how pharmacies are lowering product costs and reducing errors. Our report covers five purchasing trends:
Savings Beyond the Top 200
Accuracy of Received Goods
Vendor Non-Compliance
The Cost of Reordering
Vendor Substitution Impact
5 Key Pharmacy Purchasing Trends
A Preview of What The Smarter Purchasing Report Uncovered...
1.2
%
Even a small percentage of reorders can have detrimental effects—but for some pharmacies analyzed in this report, the percentage wasn't even that small.
8.2
%
Substituted items made up 8% of the total items and some pharmacies could pay over $10,000 per year due to vendor substitution.
5.4K
+
0.18% of invoices were higher than the actual amount of goods received, resulting in 5.4K in yearly losses for a pharmacy with an average purchasing volume of $3M.
On Demand Webinar
Learn how pharmacies are lowering product costs and reducing errors by watching our on demand webinar hosted by SureCost Founder, Chairman and Chief Product Officer Calvin Hunsicker, a former pharmacist and pharmacy owner.
"I usually check SureCost's 'pricing discrepancy' tab before I even submit the order, so I can report the discrepancy to [the wholesaler] for them to correct everything. I also run a 'missed opportunity' report [in SureCost] daily to see if I bought something that I could've gotten cheaper."
— Wolf Kraus, Director of Purchasing at Specialty Rx